Parents
Google Apps for Education (GAFE)
Wetaskiwin Regional Public Schools has joined a large and growing learning community where students use technology for learning via web based email, calendar and documents for collaborative study anytime, anywhere.
Since 2014, students and teachers have been given opportunities to use Google Apps for Education (now called G-Suite for Education) in WRPS.  Technology plays a vital role in our children's future and our goal is to prepare students for the world of work via personalized and student centered learning opportunities.  Teachers have been accessing training via workshops, hangouts, and working with Chromebook trainers to enhance their GAFE skills and integrate technology with learning in their classrooms.
Across our school division, students are engaged with technology.  
Examples of this include:
-Tracking the Ididarod athletes real time as they mush through Alaska; journal-ling their progress and tracking data related to the race - the weather and distance the athletes have traveled.  
-Playing Kahoot, an online game to help study information
-Creating Choose Your Own Adventure stories using Google Slides, individually and collaboratively with a whole class or partner
-Use of Pow Toon to create a presentation 
-Playing Co-Co's Adver Smarts to learn how advertisers trick you into wanting their product
-Teachers' use of Google Classroom to post and manage assignments; create a digital classroom that uses no paper.
-Creating a survey for their classmates; individually or collaboratively
Home and School: A Shared Responsibility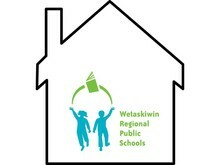 Digital Citizenship is an ongoing partnership between teachers, students and parents. Just as teachers build an awareness of the importance of digital citizenship at school, parents build and reinforce these concepts with their children at home.  
Digital citizenship is the norms of appropriate, responsible technology use.
How can you build an awareness of Digital Citizenship at home?
*talk with your child about their online activities.
*spend time online reviewing parent resources and becoming informed about what children are doing online.
*read over the Parent Pledge for Digital Citizenship http://www.digitalcitizenship.net/uploads/ParentContract.pdf  you don't necessarily have to sign the contract but it outlines steps parents can take to be involved in their children's online lives.  
*read over the kids pledge for Digital Citizenship with your child http://www.digitalcitizenship.net/uploads/KidPledge1.pdf
What is Bring Your Own Device?
BYOD is an initiative that encourages students (and staff) to use their own electronic devices in classrooms to personalize their learning.
BYOD Initiative is Optional for Schools and Classrooms
Each school that wants to incorporate the BYOD (Bring Your Own Device) initiative must complete the following:
Establish a clear goal for BYOD Project whether for certain classrooms or school wide implementation.
Complete technology survey with students on www.wrps11.ca .
Discuss BYOD initiative with Parent Council.
Share school specific Parent BYOD FAQ with parents.
Share school specific Student BYOD FAQ with students.
Include BYOD initiative information in school newsletter, via letter to parents from school, and on website.
Signed Technology Responsible Use Agreement for each student. 
Chromebooks are a new type of computer designed to help you get things done faster and easier. They run Chrome OS, an operating system that has multiple layers of security, cloud storage, and the most popular Google products built-in.
Chromebooks allow for quick and easy use of Google Docs, Drive, Spreadsheets, and more...
All WRPS schools have at least 2 carts of Chromebooks as well as 4:1 ratio touch Chromebooks in Kindergarten and Grade 1. 
Chromebooks are lightweight, portable, and access our wifi for secure, filtered internet use.  Chromebooks work seamlessly with google and start up in 8 seconds so valuable learning time is preserved and not wasted.  Their battery life lasts through an entire school day making them an ideal tool for the 21st Century Classroom.
For more info:
http://www.google.com/intl/en_ca/chrome/devices/features-different.html