School Messenger
School Messenger – Mass Notifications System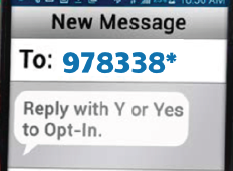 Our School Division utilizes the SchoolMessenger® system to deliver text messages, straight to your mobile phone with important information about events, school closings, safety alerts and more.
You can participate in this free service* just by sending a text message of "Y" or "Yes" to our school's short code number:
CANADA-BASED numbers: 978338
Mass notifications are referred to as "Broadcasts" because of the massive number of destinations to which SchoolMessenger® can simultaneously deliver our messages.  Available broadcast destinations include Phone, Email, SMS Text.  
Contact Information
Message recipients' contact data for parents comes from the PowerSchool Student Information System (SIS) database. It includes parents, guardians and all other contacts such as those listed as emergency contacts or babysitting.  This data is updated every evening so that any changes to phone numbers, emails and contact preferences will be current on every broadcast. Parents are asked to contact their school administration office to verify their contact information to ensure the information is kept up to date.   
Text Messages 
Under a federal law originally designed to protect consumers from telemarketers, we have to get your permission to send messages to a mobile phone by SMS text.  It is also just a good idea so that we're sure the message is going to the right phone number for the right person. Therefore permission only is needed for texts. Permission isn't necessary for other calls from the school; for example, you might get a message directly from a teacher, principal, or other staff members.
View:  SchoolMessenger SMS Opt-In for further information.
Opting-in or out of the SMS Text Message Service 
An Opt-In invitation text was sent to all mobile phone numbers uploaded from our Student Information System (SIS). 
Recipients have to reply "Y" or "Yes" to the invitation text message to "Opt-in".  
If you did not receive the invitation text message or want to ensure you are registered, you can simply send a text message as follows:
To Opt-in:    Text  "Y"  978338
Standard Message and Data rates apply