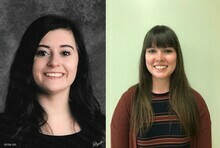 The Edwin Parr Award is annually awarded to one first year teacher in each zone of the Alberta School Boards' Association (ASBA), who has demonstrated excellence in teaching. Each school division nominates one candidate, and then a committee selects one of the candidates to receive the award for the zone. The Edwin Parr Award recipients are then recognized by ASBA Zone 4.  
This year Wetaskiwin Regional Public Schools had two nominees.
Ms. Ryley Gallant, a Centennial School grade 5-6 teacher.
and
Ms. Haley Oliver, Parkdale School Kindergarten teacher.
Wetaskiwin Regional Public Schools is honored to recognize Ryley Gallant and Haley Oliver as our 2020 Edwin Parr nominees.  The nomination is based on the outstanding skills, knowledge and attitudes and both nominees are very deserving.   Congratulations to you both.
Ryley Gallant has been selected as the 2020 Edwin Parr Teacher Award nominee to represent the division at ASBA Zone 4.