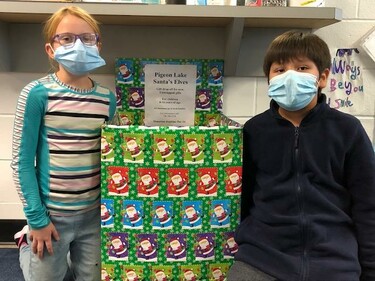 Each December, Lakedell School students work together to support the Pigeon Lake Child & Family Society's (PLCFS) Santa's Elves initiative. 
For twenty-two years, the PLCFS has been supporting families in the area west of Highway 2 to Highway 20. Santa's Elves annually supports more than 75 families with Christmas food hampers and up to 170 school-aged children with a gift of a toy, book, game, and stuffed animal. 
Lakedell students support Santa's Elves by donating toys and gifts in the collection box at the school. We encourage all who are able to support the PLCFS to do so this Christmas Season as they spread joy and goodwill throughout our rural communities. 
While COVID restrictions have dampened some annual events, Lakedell School is hoping that they will be able to collect a record amount of gifts for Santa's Elves this year.
They also hope to see many of their families when students perform their Christmas Concert songs at The Village at Pigeon Lake on December 16, 2021 at 1:00 pm.
Lakedell School's initiative partnering with PLCFS is one example of WRPS staff and students engaging in citizenship opportunities, in alignment with the Board's fourth priority: "Encourage and celebrate active citizenship in our school communities".
.
Back to News