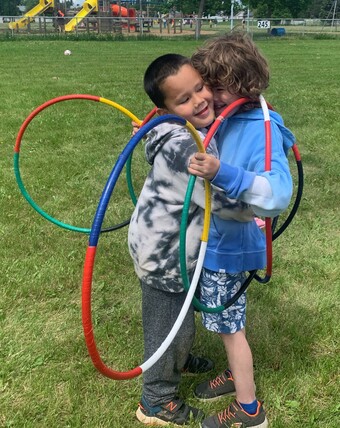 National Indigenous People's Day celebrates and recognizes First Nations, Métis, and Inuit cultures. It is observed on June 21 to recognize the summer solstice: the day of maximum daylight. For generations, many Indigenous peoples and communities celebrated their culture and heritage on or near this day due to the significance of the summer solstice as the longest day of the year.
Our schools are celebrating Indigenous culture through various activities and teachings including tipi teachings, round dances, games such the stick game and scream game, blanket exercises, drumming groups, storytelling and more. 
The following pictures are from activities at Centennial School. The weather held out for a wonderful afternoon of teachings and activities. The students rotated around 5 different stations: scream game, stick game, hoop dancing, tipi talks all of which were outside and a teachings/storytelling station in the library. The grade sixes helped with each station while Gr. 1-5 classes rotated through each station in 20 minute intervals. They ended the afternoon with a big round dance involving the whole school led by our 2 drummers and singers, Brad Rabbit and Blair Buffalo. Indigenous Support Worker, Gloria Rogers, did a great job of organizing the day and bringing in guests for the occasion.
National Indigenous People's Day at Centennial School