View All News Posts
Lynn Lauren Early Education School's Students Learn Important Lessons by Playing with Blocks
Posted on: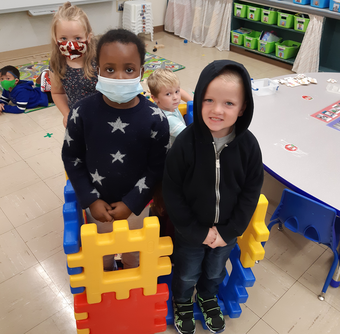 The children at Lynn Lauren Early Education School are learning many and varied skills through play-based instruction using blocks. With teacher support, children work cooperatively to build a large structure. 
The children are exposed to the opportunity to experience and practice the skill of 'perseverance' when the structure fell down. This activity allows children to learn about the concepts of 'in and out' by having some children be 'in the structure' and other children 'out of the structure'.   
Teachers help the children compare the number of children inside the structure to the number outside the structure, practicing the concepts of 'more' and less'. The teachers help the children count how many children were in the structure and coach them to 'invite' more friends to join. 
This activity illustrates the cross-curricular nature of early childhood education, linking foundational early numeracy skills, language and communication skills as well as social-emotional skills in a play-based environment.  It aligns with the Board's belief statement that "Our students achieve their full potential and actively participate in their learning".
"Play is the highest form of research" -Albert Einstein 
"Play is the answer to how anything new comes about." -Jean Piaget