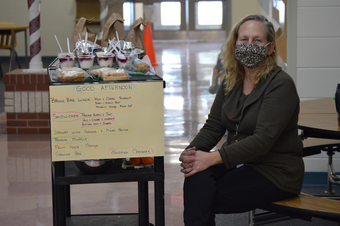 At BMC we know that food fuels the mind.  It all begins with a healthy breakfast!  At our site, our Breakfast Program (supported by Hope Mission, Breakfast Clubs of Canada, and President's Choice) feeds 70 of our students every day.  We recognize that breakfast is the most important meal of the day, and allows "our students to achieve their full potential and actively participate in their learning" (WRPS Board of Trustees' Belief Statement).
When serving breakfast, we focus on:
Hitting All the Food Groups → We aim to give the students a variety of food to help them through the day. Including fruit and vegetables, grains, dairy, and proteins.
Putting in the Effort → We try to make the meals as interesting and tasty as we can.  Ranging from yogurt and granola to waffles and fruit to even breakfast pizzas.
Fueling the Brain → We believe in order to succeed you must fuel the brain and in order to do that you must eat three meals a day and one of them is breakfast.
Success → Instilling these healthy habits early in life will lead students to success in the future.
In addition to breakfast, students are also able to access lunch.  Twice per week, sandwiches, along with other lunch snacks, are sent out courtesy of Hope Mission, making it easier for all students to maintain a balanced diet.
As our students are developing young adults, the breakfast and lunch programs are open to ALL students, regardless of need or length of their bus ride.