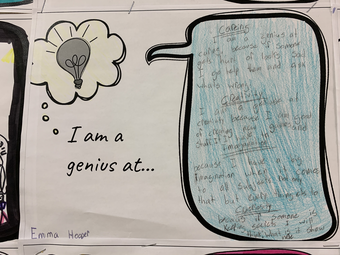 Ms Shelley Moore (educator, consultant, researcher, speaker) believes we should help all students understand how they are geniuses, and we agree! A genius is someone who is an expert at something. It could be reading complex books, explaining magnetism, tying shoes, even playing the harmonica! Everyone has the capability to be a genius at something and by recognizing this we are helping students identify their strengths. 
When we work from a strength-based approach, we help students understand the qualities they possess that help them to achieve their goals. This strategy provides hope and supports positive self-concept development which leads to improved mental wellness. In alignment with the Board's vision, this creates a learning community that nurtures hope and inspires a sense of purpose for all.
We invite you to celebrate the ways that you are a genius too! Ask your children how they are geniuses and share your genius-ness with them. Celebrate your strengths!