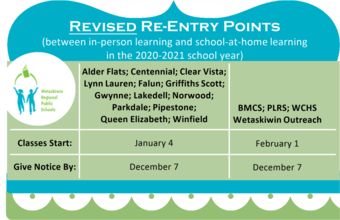 As stated in the WRPS Supplemental Guide, operating practices are now established for in-school learning and the school-at-home-learning program to confidently support students and their families.
With guidance from their school principal, families are able to make an informed choice for the balance of the school year.
As a result, the division revised its re-entry points for registered students to one final deadline of December 7:
 

Alder Flats; Centennial; Clear Vista; Lynn Lauren; Falun; Griffiths Scott; Gwynne; Lakedell; Norwood; Parkdale; Pipestone; Queen Elizabeth; Winfield




BMCS; PLRS; WCHS;

Wetaskiwin Outreach

Classes Start

January 4

February 1

Notice

December 7

December 7
For families wishing to make a final change to their child's learning program, please contact your school principal on or before December 7.