View All News Posts
Seeds of Understanding at Pine Haven & Silver Creek Colony Schools
Posted on: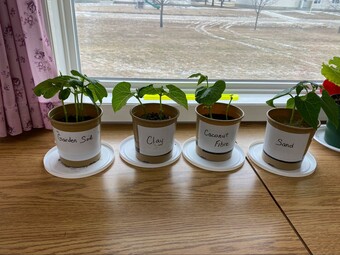 Students at Pine Haven and Silver Creek Schools have been knee-deep in science. Teachers Donalee Sharratt and Shannon Atchison have been working on developing multigrade science bins for the past three years. Students are highly engaged and digging into these newly developed multigrade immersive bins!  
Many often wonder how colony educators teach so many grades at one time.  Covering the multitude of science outcomes has always been a complicated process because our classrooms have learners in grades 1 through 8 in one classroom.  Students also have limited use of technology.  This approach to teaching science meets the unique needs of this community of learners. 
The colony teachers have organized their daily timetables without science.  Twice a year that timetable is paused for approximately 10 days of science. Students look forward to a change of pace whereby they spend the majority of their day studying science.
During the past science block, students studied plants, small crawling animals, and ecosystems depending on their grade.  Within these bins are all the resources required to deliver all science curricular outcomes in a three-year rotation.  The next time that bin is opened, the students will be three years older, and will be exposed to more advanced material on the same topics!
Even though it may not feel like spring outside just yet, inside our colony schools more than just plants are blooming!