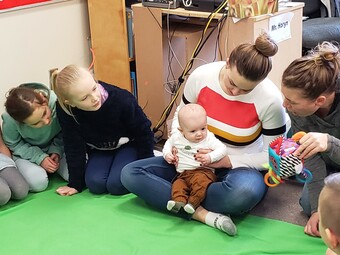 Roots of Empathy is a widely used, research based, empathy building experience for elementary students. By practicing authentic communication and promoting a climate of respect, among many other values, the program helps create classrooms that support optimal learning.

This year, Pipestone School grade three and four students in Mr. Horyn's classroom, are being guided through the program  by Alana.  One of the featured components of the program is the involvement of a "Roots baby" and mother.  The infant, under a year old, is from the local community and helps students learn about empathy through monthly visits.  The monthly visits feature observations, questions and discussion about how the infant is growing and learning.
In the photo are Pipestone's Roots Baby, Otto, and his mom Abby.