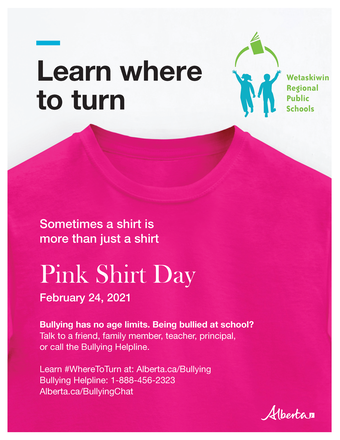 Pink Shirt Day is on February 24, 2021. Recognized worldwide since it began in 2007, Pink Shirt Day is an opportunity to promote healthy relationships, respect diversity and take a stand against bullying. We all share a responsibility to stop bullying when we see it.
WRPS encourages our staff and students to recognize the day and wear pink. Use #WhereToTurn to post photos online of people wearing a pink shirt or mask. WRPS is committed to understanding the importance of promoting healthy relationships and creating environments that are welcoming, caring, respectful, safe and free of bullying behaviours.
The Bullying Helpline (1‑888‑456‑2323) is available 24 hours, 7 days a week in more than 170 languages, and the Bullying Online Chat is available 8 a.m. to 8 p.m. daily at Bullying ‑ Find supports. Both are confidential.
Indigenous students and staff may also wish to contact the toll-free Hope for Wellness Help Line at 1-855-242-3310 or the online chat at hopeforwellness.ca (open 24 hours a day, 7 days a week). This line offers immediate mental health counselling and crisis intervention to all Indigenous peoples across Canada in Cree, Ojibwe and Inuktitut.
The History of Pink Shirt Day:
Now a movement celebrated across the globe, Pink Shirt Day has humble beginnings. Inspired by an act of kindness in small-town Nova Scotia, CKNW Kids' Fund, working with partners Boys & Girls Clubs and 980 CKNW, was inspired to raise funds to support anti-bullying programs. Here is a snippet of an article detailing the original incident:
After David and Travis' act of kindness in 2007, CKNW was inspired to help other youth affected by bullying, with many staff members wearing pink shirts and collecting funds to support Boys and Girls Clubs. Since then, the idea has only grown each year, with worldwide support and participation. Countries across the globe are now organizing anti-bullying fundraisers of their own.
Pink Shirt Day - Feb 24