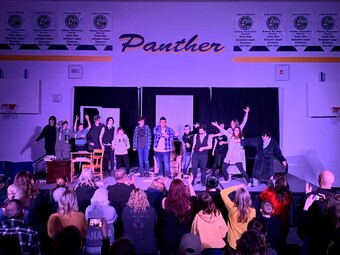 On December 12, Pigeon Lake Regional School's high school Drama department performed Nightfall: An Evening with Edgar Allan Poe by Eric Coble for their Winter Performance.
The students' long months of hard work and dedication paid off, as the show was a smashing success, earning the students a standing ovation from the wonderful crowd. One audience member even commented, "I am really disappointed that this play is only on tonight, as I would come back and see it at least 2 or 3 more times!" 

Nightfall follows Edgar Allan Poe, the godfather of the macabre, attempt to convince the audience that he is not mad while slipping into several of his most famous works including The Raven (a tale of grief-driven insanity), The Fall of the House of Usher (a supernatural tale of madness and betrayal), The Pit and the Pendulum (a story of a tortured prisoner), and The Tell-Tale Heart (a story of murder, insanity, and guilt).
We are extremely proud of the high school Drama students, many of whom were first-time performers and crew members. Congratulations on a job well done!