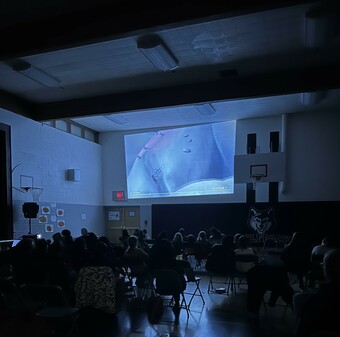 Oct 26, 2022…The "spirits" of community and sharing were celebrated at Parkdale School as students, staff, and families gathered for dinner and a movie. Families from Grades 6, 7, and 8 attended. The meal was mashed potatoes, vegetables, pork chops, and bread with butter if you chose. It was delicious! There were also cookies for dessert. Everything was provided by Hope Mission. In addition to the meal, there were draws. 
Parkdale was also pleased to host a very special guest. The Honourable Rick Wilson, Minister of Indigenous Relations and MLA for Maskwacis-Wetaskiwin, attended and helped serve food to our families. 
After the draws the movie started. Popcorn was served by Parkdale leadership students. Everybody got comfortable and watched The Nightmare Before Christmas. 
Parkdale School is planning to host more family evenings during the school year for the rest of the grades in the school. Thank you to all who came out and made it a great night!
Parkdale School Movie Night