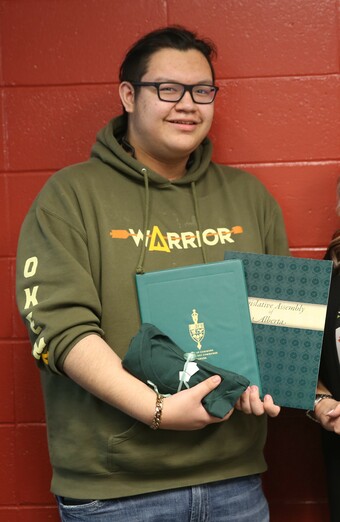 The Wetaskiwin and Area Leaders of Tomorrow Awards Program is an annual program that recognizes youth who have made outstanding contributions to their community through volunteerism. By virtue of their nomination, these young people have already demonstrated leadership promise and commitment to their community. 
Ozias Saddleback (grade 12 at WCHS) was nominated for our "Leader of Tomorrow Award" by Mrs. Dingman, WCHS Indigenous Support Worker. He proudly received this award in May.  He has shown not only his peers but staff who have crossed ways, how to walk the good path.  His ability to lead is done with courage, strength and humility.  Ozias is also the leader of the WCHS drum group, Indigenous Healers, mentoring the group daily around the drum and throughout the day.  
Ozias' future aspirations include working in the trades on his Nation and his continued journey of cultural learning in hopes to one day come back to the school and share his knowledge.