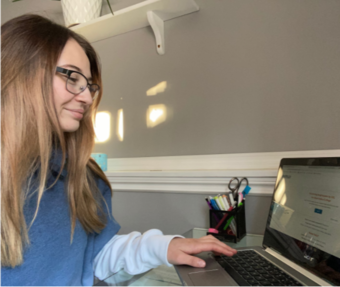 DUAL CREDIT- What is it? 
Dual credit is for students in Grade 11 or 12 who want to earn both high school credits and credits that count towards a post-secondary certificate, diploma or degree. Dual credit allows students to personalize their high school experience and build on or discover their career passions and interests.
Grade 12 student, Kameo, attends Pigeon Lake Regional School and is taking Intro to Forensic Science this semester offered through Bow Valley College. She is really enjoying the course because they get to analyze situations and are learning what to look for in a variety of situations.
Kameo stated "keeping on top of major assignments has helped me with my time management. This is setting me up for success in university because I am learning to balance course work and setting up small goals to meet timelines." Kameo is planning on taking another dual credit course in the second semester.
Learning from the college's online platform and interacting with students from all across the province has led to many dynamic discussions and an overall rewarding experience. Kameo stated that it was confusing at first to learn a new platform, but she is now confident and feels she will be more prepared when she goes to university in the fall.
Dual Credit Course offerings for the second semester include:
Medical Terminology
Intro to Psychology
Intro to Veterinary Practices
Horticulture, English Literature, and
Ecology, to name a few!
If you want to get a jump start on your post-secondary, all at NO COST to you, and are interested in taking a Dual Credit course for the second semester, please contact Mrs. Armstrong at Theresa.armstrong@wrps11.ca before the Christmas break.