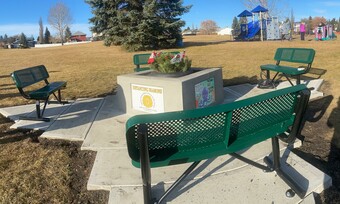 The WRPS Wellness Support Team, in conjunction with the Millet Healthy Communities Initiative, helped with the design and launching of the Distancing Diamond Project that opened last week.
The Distancing Diamond is a concrete structure built with physical distancing in mind, allowing you to sit and visit with others from 2 meters away.
You will also notice artwork on display from community members who were asked to submit art to showcase what brings them joy and what positively impacts their mental health. Some of the displayed artwork was created by students from Griffiths-Scott School. The removable art plaques will be changed periodically throughout the year to showcase more wonderful artwork.

The Distancing Diamond is located along Diamond Drive in Millet and is now open to the public. 
The project was possible because of all the partners, donations, and the Alberta Healthy Communities Initiative
Distancing Diamond Project in Millet