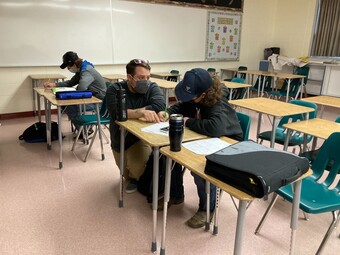 Staff at Buck Mountain Central School jumped at the opportunity to re-introduce the Directed Learning block into the school's timetable again this school year.
Directed learning is a half-hour a day where staff work with students on essential learning outcomes, related to literacy and numeracy, in a homeroom model for students in grades 7-10 and students in grades 11 and 12 get an opportunity to have extra time to work on independent practice or to seek out specific teachers for support.  
There is also a Success Room, where teachers sign up students who are in need of a little extra support in order to either catch up or re-learn material to be successful in their classes. Students who are sent to this room have the benefit of early intervention and support, rather than having learning tasks pile up and become difficult to manage. This space is dedicated to high school students at this time, as we recognize that students in grades 7-9 will benefit from developing their literacy and numeracy foundational skills. It is also a built-in structure to support students who have missed class time.
Learning activities in the grade-level rooms are designed by the BMC Literacy and Numeracy staff learning teams, who also spend time in collaborative planning meetings during this Directed Learning time. Additionally, our Sense of Belonging staff learning team plans weekly (or bi-weekly) activities for Friday each week, which we spend in our Teacher Advisory Groups.  These groups, known as TAG, serve as an opportunity for students to connect with one another, as well as with staff members, to ensure they have support and advocacy as we navigate the school year.  
Directed Learning provides a structure for the implementation of Collaborative Response, which is being implemented in all WRPS schools this year to leverage our existing practices of coming together in Professional Learning Communities for Collaboration, and delivering timely and effective Response to Intervention learning supports.  Through this model, staff at BMC are experiencing greater momentum in staff-led initiatives with weekly planning meetings and becoming more effective at responding to the needs of our students in a timely manner.  Each student at BMC has a team of staff members working collaboratively to support their needs. 
Last year, it was difficult to imagine an effective model of Directed Learning, given the different circumstances and health protocols that shaped how schools operated during that part of the pandemic. Even though now we are not back to an ideal model of Directed Learning (which could involve grouping students in different ways other than by their grade level), we are proud to be dedicating the time within our school day to supporting students in learning what is most important and what will have the greatest impact on their learning as they work toward high school completion.