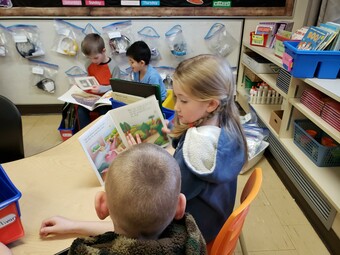 Recently, it was Drop Everything And Read (D.E.A.R.) Day at Pipestone School.
Pipestone School always does a 15 minute D.E.A.R. time on a daily basis, but to celebrate literacy and the importance of reading, they had a day where they did D.E.A.R. at eight different times. Some students read by themselves. Some, especially their youngest students, read to each other.
We had students reading hardcover books for 5-20 minutes at a time.
What a terrific celebration of literacy at Pipestone School where students "Learn To Succeed"!
National D.E.A.R. Day is celebrated every year on April 12. That's the birthday of beloved author Beverly Cleary, whose characters Ramona and older sister Beezus are now favorites of a new generation of readers. On this day, families are encouraged to take at least 30 minutes to put aside all distractions and enjoy books together. 
For more information on D.E.A.R. Day, visit the Reading Rockets website.