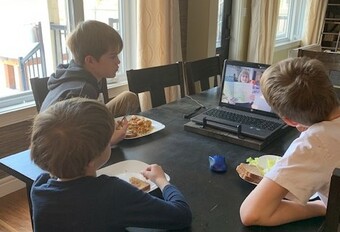 Teachers are working hard to ensure your children are able to continue learning. 
At Griffiths Scott School in Millet they have had incredible support from their families.
All teachers have made phone calls to their families and had great conversations with parents discussing their child's learning but most importantly just talking about how our students and their families were doing at home.
Parents are very appreciative and thankful to our staff for everything they are doing. 
Almost all families picked up their students' items and are now ready to continue learning from home.  261 / 265 students now have their personal items at home with them for the continuity of their learning.
Staff worked together to bag the students' items, organize them in the front foyer and then personally deliver them to the families' vehicles when they arrived.
All of the families were so respectful of the procedures we set out for collection of their items. They were happy to have a brief moment to connect with staff (at a safe distance) and once again were always appreciative of what we were doing. 
There is so much uncertainty in our days right now but the connections and support from our Griffin parents has lightened out hearts and days! 
Thank you!
Griffiths - Scott School