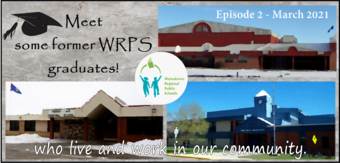 We are excited to showcase a few more former WRPS graduates who now live and work in our community. 
Enjoy Episode 2 of Celebrating our [Former] Grads.
Thanks to the following people for participating:
Carrie Laczo, Principal of Alder Flats School
Tori Lemieux, Executive Assistant at WRPS Plant Facilities
Shadi Rahbani, SIRRS Student at Law
Randi Tyler, Admin Assistant at Buck Mountain Central School
Chris Kirwan, Acting Principal at Queen Elizabeth School
Krysta Scheuerman, Business Owner of Kreative Khair
Tammy Harden, Teacher at Winfield School
If you or someone you know graduated from WRPS and lives & works in our community, we would love to have you participate in this project! Please complete our Google Form and we will be in touch!