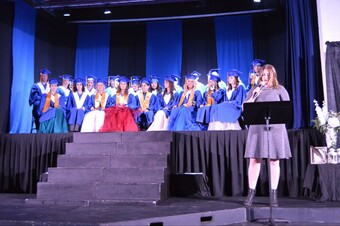 Students and staff at Buck Mountain Central School celebrated convocation on Friday, May 27 and it was the first public graduation event since the pandemic began. While it was a subtle reminder of all the hard work and long hours needed to organize, the event went off without a hitch. The gymnasium was packed, and the upstairs viewing area held the overflow guests. In fact, extra chairs had to be brought in to accommodate the crowd who came to celebrate the accomplishments of our students.  Students and families hosted a private banquet following the convocation ceremony.
Not only were whole families in attendance, but we were honoured to be joined by WRPS Trustee Karen Becker, members from the Winfield Lions Club, the Winfield and District Agricultural Society, and returning teachers Mr. Jon Meyers and Mr. Julian Moore. Our Valedictorian, Zach Zimmerman, also gave a heartfelt speech about the new journeys the students were to start, and wished everyone good luck in the upcoming exams. It was truly a great night to celebrate learning and to start an end to our (hopefully) last school year full of pandemic turbulence.
Graduation is a time of celebration, not only for this years' accomplishments, but for all those who had an impact on each students' learning journey on the path to earning their high school diploma.  We are grateful to our community, including other WRPS schools, and to all those who had a hand in making this such a successful, powerful event.