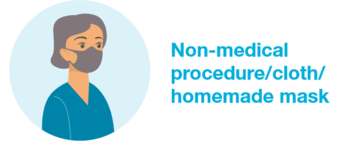 By now all students have attended school for one day in our staggered entry to the school year. Each staff and student received two (2) reusable masks as provided by Alberta Education. These reusable masks can be laundered, which should be done after each day.
If students prefer to use their own reusable masks, please ensure they are similar in style to the masks provided to students (see page 3 of this document) and note that bandanas or neck gaiters are NOT permitted. Alberta Health Services' position is that bandanas and gaiters are not appropriate substitutes for masks. The reason for this is that to put on and take off either a bandana or gaiter you need to use your hands which touch most of the material that would act as the mask while a mask can be put on and removed using the strings that go over the ears. Additionally, the bandanas and gaiters may not be thick enough to properly act as a mask.
The Alberta Government provides guidance on making or buying masks:
Making a mask
There are many ways to make a cloth mask. Health Canada provides instructions with sew and no-sew options.

Choose a fabric or cloth that can withstand frequent cycles through washing and drying machines
Use multiple layers of tightly-woven fabric – 4 layers are optimal.
Use a combination of fabrics such as a high thread count cotton (e.g. 600-thread count pillowcases and cotton sheets) with spun-bond polypropylene or polyester.
Use different fabrics or colours for each side of the mask. This helps you to know which side faces your mouth and which side faces out.
Buying a mask
Make sure cloth masks:

Have multiple layers of fabric
Fits securely against your face
Allows for clear breathing
Can be laundered
Comments
I think its really important that daily laundering of each fabric mask be emphasized. IT is no good to just keep putting on the same mask and hang it somewhere. There has been very little emphasis on the need to wash them each day or even provide a clean mask baggie and a dirty so students know to store them appropriately otherwise the mask concept is not that valuable.