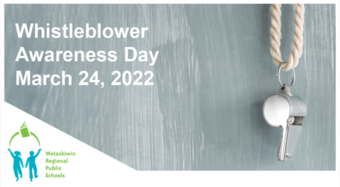 March 24, 2022 is Whistleblower Awareness Day, a nationally recognized effort to highlight the important role whistleblowers play in strengthening the integrity of public institutions.
Organizations in various Canadian provinces working to achieve greater integrity in public services celebrate the day to raise awareness.
WRPS promotes a workplace culture where whistleblowers are supported and where employees and management share a common goal of detecting and remedying wrongdoing.