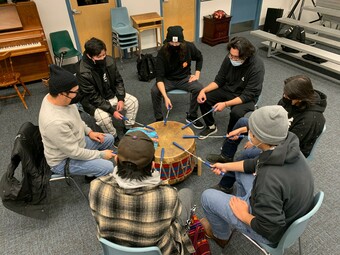 In early December, Mr. Kevin Littlechild was enlisted to lead a group of young men in drum culture. 
Kevin is a well known drum instructor in our division and brings an enthusiasm that is contagious. The group consists of eleven members ranging from grade 9 to 12. The group started with hand drums and were given teachings about the drum. Next they moved on to the powwow drum.
Although many are shy to sing, the pride they feel walking to drum class is palpable. Kevin will continue to teach this group throughout the rest of the year. 
We are excited to have this opportunity that has such a positive impact on our young men.