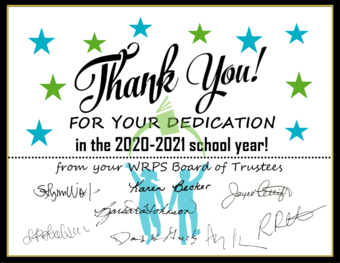 Given the many extra duties that staff were faced with this school year, the Board of Trustees wanted to end the year on a note of appreciation to all staff for their dedication to student learning and overall well-being.
On Wednesday, June 2, 2021, trustees delivered appreciation baskets to each WRPS site. This coincided with "Orange Shirt Day" in recognition of the 215 graves found at a former residential school in Kamloops.
The baskets contained a variety of treats so that every staff member could find something they could enjoy. Staff comments included:
"Many thanks for the Appreciation gift basket and baggies."
"The treat basket was a wonderful opportunity for staff to join in the staff room for some light conversations and refreshments."
"We appreciated the thought and time that went into preparing the basket and enjoyed this fabulous wellness break in our day!"
As the school year draws to a close, the Board of Trustees wishes all staff a restful break, and hopefully a more normal school year for 2021-2022.
Staff Appreciation