View All News Posts
Timelines to Switch Back to In-School Learning or School-At-Home Learning
Posted on: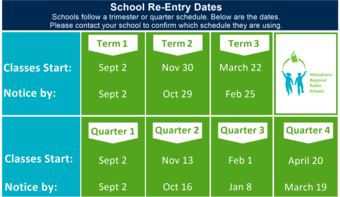 Families with children registered in one of our schools and who are considering a change to their child's learning for either In-School Learning or School-At-Home Learning, notification to your school's principal for all schools on the term schedule is coming up!
Term 2 begins on November 30. Please notify your principal on or before Thursday, October 29 of your request for a change. NOTE: requests for change after this date will not be accepted.
If you do not desire a change to your child's learning program, there is no need for you to contact your principal.
For this and more information, please refer to our full re-entry plan: https://www.wrps11.ca/covid-19-wrps-information