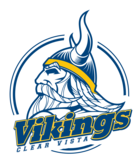 Grades: Kindergarten - Grade 8
4510-47 Street
Wetaskiwin, Alberta, T9A 1B8
Phone: 780-352-6616
Fax: 780-352-6770
Principal: Mr. Trevor Van Someren
Website
School Supply Lists
Introduction
History
In January of 1946, certain school districts in the vicinity of Wetaskiwin were consolidated into the Camp Centre School which was situated on the present recreation grounds.
In 1957, a staff of eleven, including Principal Mrs. P. Blundell, and 221 students moved the Camp Centre School to a new school called Clear Vista on 12.2 acres of land. There were nine classrooms, an industrial arts shop, a home economics room, an audio-visual room and a gym.
In 1962, while Mr. W. Dawson was Principal, the west wing was added. In 1966, with Mr. W.A. McGladrie as Principal, four classrooms including a science room, a library, staff room and a teachers' workroom were added to the east wing. A playroom was added to the west wing, the I.A. shop was enlarged and shower facilities were added to the gym. At that time, there were 399 students with 23 on staff.
In 1985, a new gymnasium was added and renovations were carried out in the old gym to include a new library and a new band room.
In September of 2003 the present Clear Vista School was opened and the old school torn down. The new school was the result of a push for many years by former Principal, Mr. P. Holte, the parent council and the school board.
(School Colors - Blue and Gold)
School Description
The school population is comprised of students from within the city limits, primarily from the southeast quadrant together with rural students who are bussed from around the city of Wetaskiwin. The number of students attending Clear Vista has remained relatively stable for a number of years and as a result, we have managed to maintain a population of over 460 students.
We offer programs for students from Kindergarten to Grade 8 and operate under a closed-campus policy. This means that students are not allowed to leave the premises during the school day without the permission of both parents and staff.
Administration
Principal: Mr. Trevor Van Someren
Vice Principal: Mr. Mike Daly