View All News Posts
Technology Upgrade, Education Dollars at Work for Norwood Students
Posted on: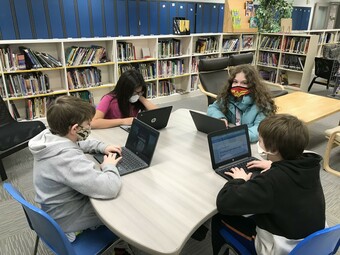 Norwood School recently received their new Chromebooks from the division, and both students and staff are making excellent use of them.  Norwood now has 2 students to 1 Chromebook or a 2:1 ratio in Kindergarten to Grade 3 classrooms. In Grades 4-8, students have a 1:1 ratio.  This is a significant improvement from the previous years, where 3 or 4 classrooms shared one classroom set of Chromebooks.  
This shift has resulted in significant enhancements in the classroom concerning the use of technology as a learning tool. For example, students now have immediate access to internet resources that specifically support their growth in literacy and numeracy. Students have quick access to volumes of information on the internet, which they can then insert into their projects to show what they are learning. In addition, students have access to online Google tools to receive, create, store, and hand in their work.  In turn, teachers can receive student work through Google Classroom or other online tools and then provide timely feedback that students can review at school or at home with parents. 
What students have to say:  
"Having your own Chromebook means that you get more time to work on projects instead of having to share one Chromebook between one or more students."  
"I can catch up on work without using somebody else's Chromebook time, like when we shared Chromebooks."  
"I don't have to waste time signing in and out of someone else's Chromebook. You get them for the whole day!"
"I'm getting way more done now!" 
"I get to work at my own speed, and the teacher gives me work that helps me catch up."
"Answers are right at my fingertips!"
What Teachers have to say:
"There are far fewer disruptions, so the continuity of learning from one activity to another has significantly improved."
"I can focus on planning lessons for chrome books and not have to plan alternate activities when students don't have chrome books." 
"I can individualize and differentiate lessons or assignments for each of my students.  This way, I can meet each student where they are at in their learning journey." 
"One to one Chromebooks allows me to provide online tutorials for students to help address the learning losses they have experienced due to COVID."
We love the new Chromebooks at our school, and we are very thankful!