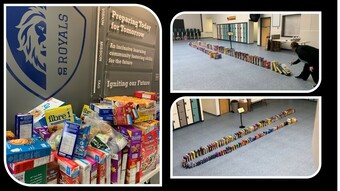 If you haven't noticed, there is a new grassroots non-profit food bank in Wetaskiwin that has a greenhouse attached. Rock Soup's mission is to address food insecurity and to help those in need.
The students at QE School collected food boxes to create a fun domino set up that could later be isolated and donated to Rock Soup. Over the course of a week, food boxes were brought in and isolated so that the students could watch the logistics of setting the domino up and knocking it down (more than once as the classes came separately to observe the physics of kinetic energy). It was a cool experiment as even the teachers learned that the distance between different-sized boxes really affected the topple effect.
In the end, Rock Soup personnel chatted with the students via Google Meets and explained what they do and how members of the community can access the services. It was a great experience for the students to combine a science experiment with a community give-back experience and it was fun!