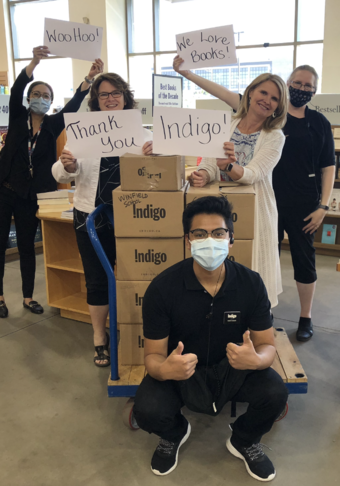 When Covid-19 forced schools to cancel in-person classes and move to at-home learning in March 2020, students lost immediate access to their classroom and school libraries and an abundance of reading material.  
Thankfully,  Indigo Books responded with incredible generosity and offered a "Love of Reading" Community Response Grant.  Wetaskiwin Regional Public Schools applied for and successfully attained a grant for just under $16,000.  With the 30% discount that Indigo offered in addition to the grant, WRPS staff were able to purchase over $20,000 dollars of books and provide books to over 800 families. School staff carefully chose and purchased a wide variety of fiction, non-fiction and early literacy-based materials and distributed them across 17 WRPS Schools.  
Families were very appreciative of the free books for their children, which provided wonderful summer reading materials.   
Staff from so many of our schools went to Edmonton Indigo Stores and chose hundreds of books for their families; it was such a fantastic experience and working with the Indigo staff was amazing.  
We commend those behind the scenes of the "Love Of Reading" Indigo Grant on having the insight to specifically address conditions created by COVID that caused kids to lose access to all the books they had at their schools.  
WRPS thanks staff members who carefully and thoughtfully chose books that children and families would have in their home reading collections for years to come.  They chose quality reading materials to suit a wide range of readers and interest levels, ensuring their students had engaging materials at home during the unprecedented circumstances. 
"Love of Reading" Indigo Grant