Dual Credit
NorQuest Business Administration program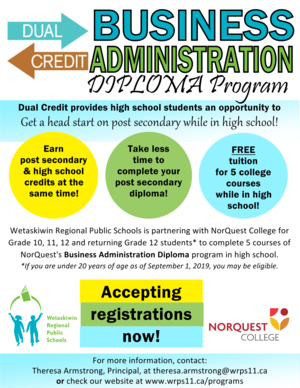 NorQuest's Business Administration Diploma program integrates practical learning experiences with unique content for a truly different business program. The practical and intensive training throughout the program helps our graduates become in-demand job candidates.
Provides a strong foundation for any business career you might choose
Explore innovative trends and practices while acquiring the skills and knowledge relevant to current and future industry needs.
After high school graduation, you receive advance credit for the coursework completed that is applied to your post-secondary program.
Courses are transferrable to other diploma or degree post-secondary programs.
Course Offerings:
WRPS is partnering with NorQuest to offer five Business Administration Diploma courses in the 2019-2020 school year as follows:
BUSD1004 Intro to Accounting (instructor Emily)
This course provides an introduction to accounting procedures and financial statements and their underlying concepts and principles. Within this framework, accounting practice is integrated with the development of accounting information for effective decision making.


BUSD1007 Business Computers Applications (instructor Shaena)
Learn from this practical introduction to software applications most commonly used in business. Develop a basic working knowledge of a suite of business software applications that includes word processing, spreadsheets, presentations, and database management.


BUSD1001 Business Communications (instructor Shaena)
This course focuses on the principles of effective business communication, both written and spoken. Specific topics include the writing process, improving grammar, writing a research paper, documenting with APA style, and preparing for public speaking. The process of revising and editing is emphasized throughout the course.
BUSD1380 Organizational Behavior
The organization of human productive energy is the central focus of this introductory course. Themes include balancing tasks, relationship requirements, and the needs of the organization with those of the individual. Specific topics include perception, personality, values, attitudes, motivation, group behaviour, and teamwork.
BUSD1009 Human Resource Management I
This course provides a high-level overview of the functions and responsibilities performed by human resource professionals in contemporary businesses. Topics include job analysis and design, recruitment and selection, legal aspects of HR, training and development, HR planning, performance appraisals, compensation and benefits, occupational health and safety and employee relations. A brief introduction to the Alberta Employment Standards Code is also included.
REGISTER NOW to hold your spot!
We are now accepting registrations for the Business Administration Diploma program starting September 2019. If you are interested in registering, please complete the following registration and permission form:
Dual Credit Registration & Permission Form
Dual Credit - For More Information