Year Round Program
École Queen Elizabeth School
École Queen Elizabeth School has been reconfigured for the 2017-2018 school year to be a K-8 School offering vibrant educational opportunities in both Year Round and French Immersion settings.
To inquire about Year Round Education please contact École Queen Elizabeth at 780-352-2281.
Year Round Education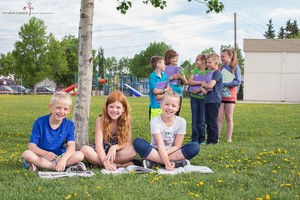 Year Round Education offers a choice for families whose work schedules and lifestyles do not suit the traditional ten-month school year. 
Year Round Schools have shorter summer breaks with a number of shorter scheduled holidays thus providing a balance in learning time throughout the year.  For more information on Year Round Education, please refer to the National Association for Year Round Education website (keep the link).
Classes for each new school year generally begin the week after the August long weekend.  Staff and students enjoy a two week break in October, a week long break in February, and an extra week during the Easter holidays. 
View the 2017-2018 year round education calendar.
For more information, please visit the school's website: Ecole Queen Elizabeth School